If you're a restaurant owner, you know that patio season is crucial to your bottom line. Patio seating can often account for up to 50% of your seating capacity and can mean the difference between a successful and unsuccessful season.
But before you start slapping some tables and chairs out on the sidewalk, there are a few things you need to know first. In this article, we'll outline some patio design tips so that you can create an outdoor space that's both inviting and profitable.
1. Choose the right seating
Try to get as many seats into your patio as possible, while still keeping it comfortable for your guests and functional for your waitstaff. It's also important to consider the type of crowds you attract. If your restaurant caters to younger, larger groups of people, you might want to set up comfortable and trendy barstools. If your restaurant turns its tables several times in an evening, small café tables might work better. Tables and chairs made of aluminum will last longer than wood and are easier to maintain. But you can also seek out all-weather chairs that mimic the appearance of real wood to get the best of both worlds!
2. Choose the correct table sizes
If your patio is made up of 2 tops and 4 tops, select sizes that have the same depth (i.e. 24" x 32" and 32" x 32", or 32" x 36" and 36" x 36") this will give you the ability to marry tables together seamlessly and accommodate larger parties. It is also wise to consider the size of your plates. If you use 13" pasta or pizza plates, or large tapas trays, you might consider a larger table to make your diners experience more comfortable!
3. Use varied elevations to up your curb appeal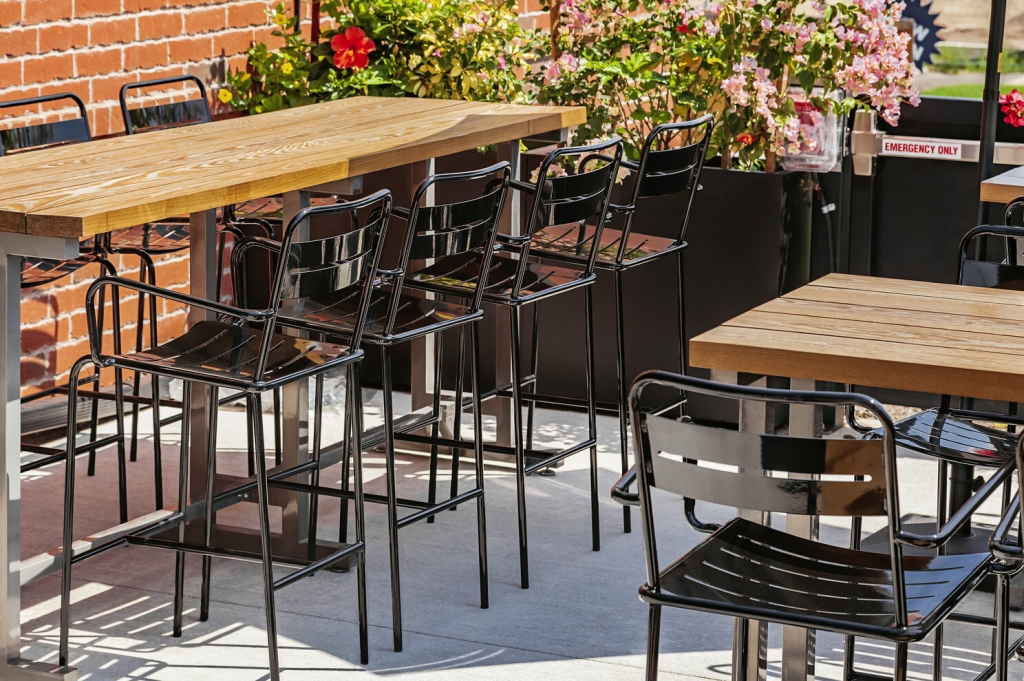 A great way to bring balance into your space is to incorporate furniture pieces of different heights. It's important to have chairs and tables at various heights to help move the eye through the space. Having a mix of high and low seating will make your patio more visually interesting and appear fuller to passersby. Different seating heights can also appeal to a greater breadth of customers who may have different dining style preferences.
4. Materials Matter
Based on your use, location and weather, some materials are going to be better than others for frames, upholstery, and tabletops. Extreme heat can cause untreated woods to splinter while plastic can become brittle and crack in the cold. Rain and salt air can cause uncoated metal to rust and humidity can wreak havoc on natural wicker. Lightweight aluminum or acrylic furniture may blow over in high winds and many fabrics will fade under harsh sun.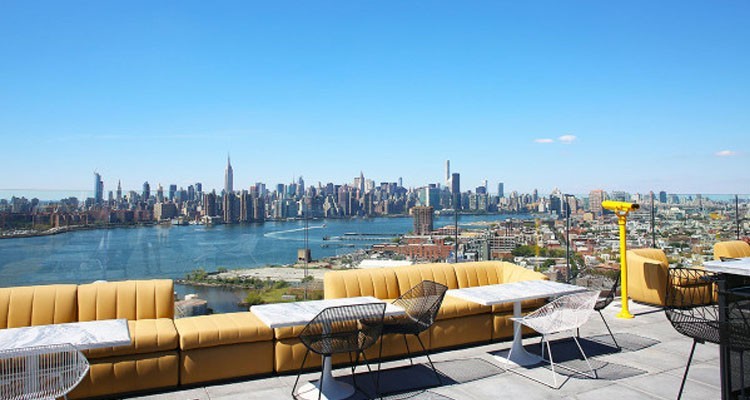 5. Take the fun outside!
Having a mobile bar or service station to get those drinks out quickly will help your turnover and bottom line. There is an unspoken expectation that the amount of time it takes a table to receive their initial drink order will set the stage for the rest of their service experience. Making it easier for your staff to start off the customer interaction on the right foot will go a long way. The further a server must travel to a bar or POS station, the longer the drink order will take, and there is a higher chance that the order will get entered incorrectly. Having a mobile bar out on the patio can enable servers to deliver drinks that much faster and start out on the right foot with their tables. Starting off with fast and reliable customer service enhances the dining experience and means your customers are more likely to order another round.